Elizabeth Hite, DMD, MS
Orthodontics is an awesome profession! Not only do we get to transform smiles, but we develop the most amazing personal relationships with our patients!
I love getting to know my patients and their families. We really do strive to make everyone feel special and to maintain a family atmosphere.
We literally watch kids grow up here, we see entire families, and it is so fun to develop these relationships. To see a kiddo who may have started seeing us for growth and development monitoring when they were seven get their braces off at 14 or 15 is pretty cool!
We see kids change, and adults, too. Some adults come in and want to either finally do something for themselves or they may be starting a new chapter in their life. Everyone has a story and we get to be part of that!
Orthodontics is about much more than just straightening teeth. It is about overall health, and the form and function of the entire facial complex, including the TMJ. My goal is to not only treat the teeth, but to set the patient up for a lifetime with a healthy bite.
Experience and Education
I grew up watching my father practice orthodontics. I spent my summers working in his office doing sterilization and lab work. I love working with people and I love the healthcare field, so becoming an orthodontist was the only career I ever really wanted.
Additionally, I have specialized education in TMD in conjunction with orthodontics, having completed Roth Williams International and Roncone International PDS training. When diagnosing and treatment planning cases, it is important to look at the teeth and joint/TMJ as a cohesively functioning unit, paying close attention to the details. This additional training ensures patients' finish with optimal oral health, as well as a smile they love.
Continuing education is a core part of how I practice. I regularly take post-graduate courses in order to stay at the forefront of the latest technological innovations and newest proven methodologies.
Professional Memberships
Beyond the Practice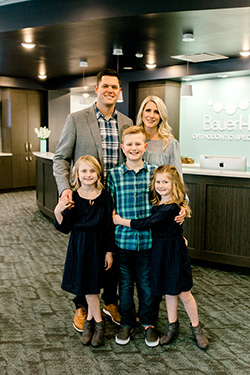 I was raised in Edwardsville and have lived in Glen Carbon since completing my orthodontic residency. My husband Ben and I met in dental school; he is a dentist here in Edwardsville. We have three awesome kiddos: Nolan is nine and loves all sports, especially hockey and baseball; Brynna is eight and loves gymnastics, singing, and volleyball; and Braelyn is six and loves gymnastics, soccer, and her baby dolls. We also have a goldendoodle puppy named Duke!
Hands down, if I'm not at work I'm with my family. We love spending time outdoors when it's nice: hiking, biking, at the park, at the zoo, and anything that's active and gets us out of the house.
I also enjoy outreach and service to others. I have been part of the Junior Service Club for many years. This organization serves our community through a food pantry, helping families in need throughout the year, meals on wheels, and local projects.